Vinland Blog
Introduction
I have always been interested in the Vikings, especially their visits to North America and the encounters with the natives (Skraelings). As if to spur this on, I was commissioned to build a model of a Viking Longship for our Local Scandinavian Cultural Center. Near the same time I obtained a copy of the book Westviking by Farley Mowat (1965) and after reading it, Peg and I decided to take a vacation to Newfoundland where we would visit L Anse Aux Meadows, the only verified Norse site in North America. What we found there and the subsequent results of my research is remarkable.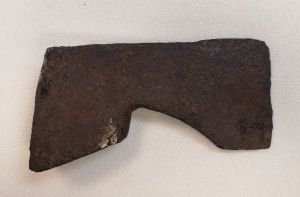 Cormorant Lake Axe View #1 (Photo permission Vesterheim Norwegian-American Museum, Decorah, Iowa)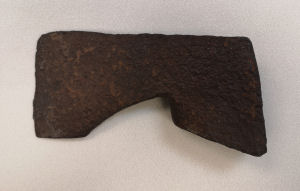 Cormorant Lake Axe View #2 (Photo permission Vesterheim Norwegian-American Museum, Decorah, Iowa)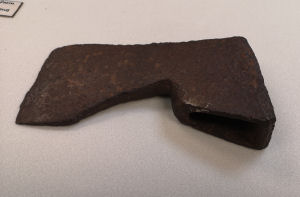 Cormorant Lake Axe View #3 (Photo permission Vesterheim Norwegian-American Museum, Decorah, Iowa)
Cormorant Lake Axe View #4 (Photo permission Vesterheim Norwegian-American Museum, Decorah, Iowa)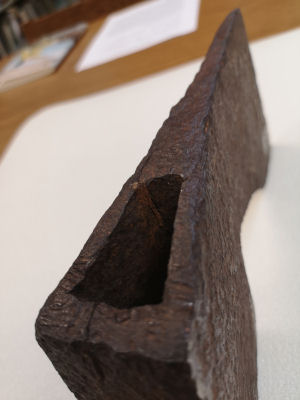 Cormorant Lake Axe View #5 (Photo permission Vesterheim Norwegian-American Museum, Decorah, Iowa)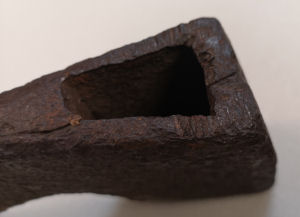 Cormorant Lake Axe View #6 (Photo permission Vesterheim Norwegian-American Museum, Decorah, Iowa)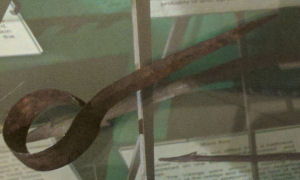 Draw Knife in Runestone Museum, Alexandria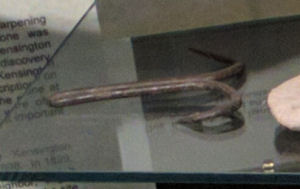 Fish hook in Runestone Museum, Alexandria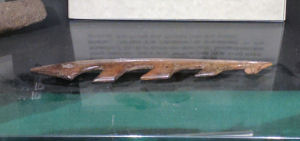 Bone harpoon point in Runestone Museum, Alexandria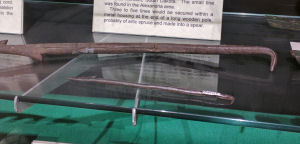 Large and small spear tines in Runestone Museum, Alexandria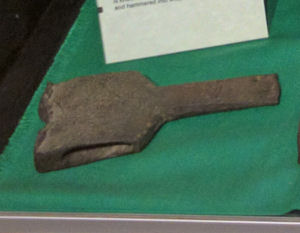 Wood wedge in Runestone Museum, Alexandria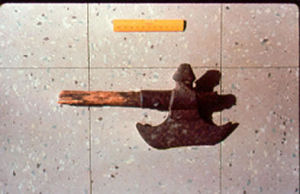 Pre museum photograph of the Lake Darling Halberd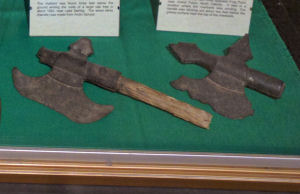 Lake Darling Halberd beside Frog Point Halberd, Runestone Museum, Alexandria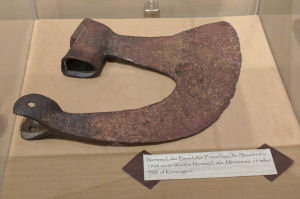 Bardiche in Runestone Museum, Alexandria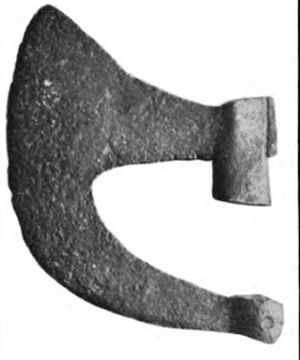 Early bardiche photograph (Holand)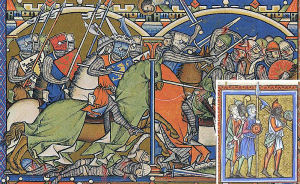 Medieval illumination of bardiche in use

Brooten sword (Holand)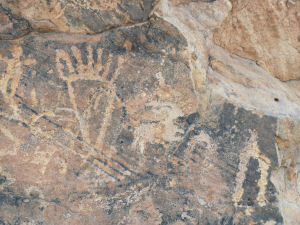 Six toed petrosomatoglyph, Colorado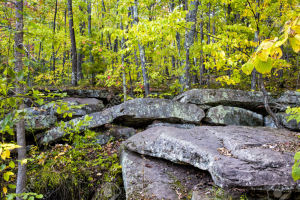 Glacial rocks Banning State Park east of Sauk Center, Minnesota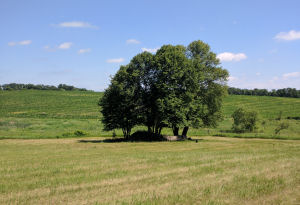 Altar stone in grove. Note the natural amphitheater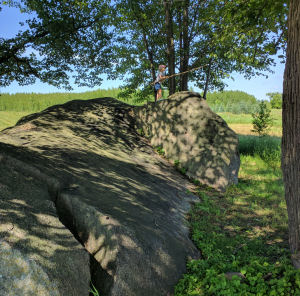 Altar stone showing horizontal holes and rock shear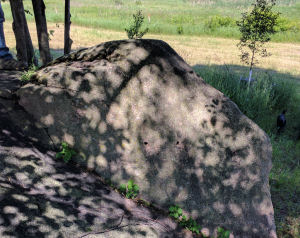 Close up of horizontal holes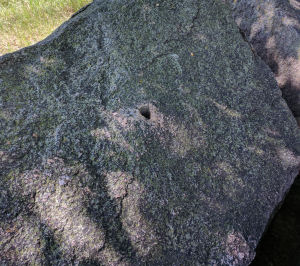 Close up of chiseled vertical hole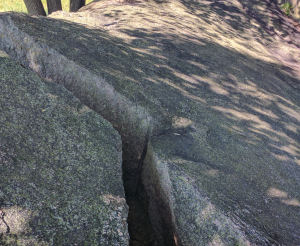 Close up of rock shear and drilled vertical hole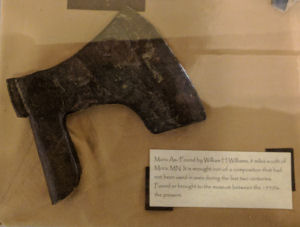 The Mora axe at the Runestone Museum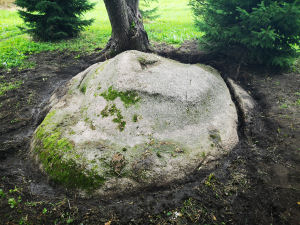 Tophet in Iowa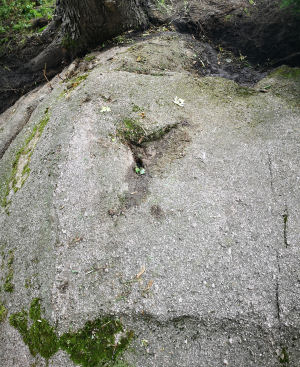 Center of altar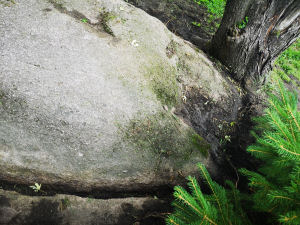 Head of altar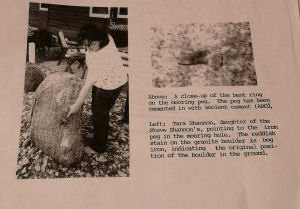 Old research on the Frederika mooring stone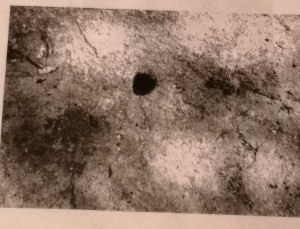 Old photograph of the Jerico mooring stone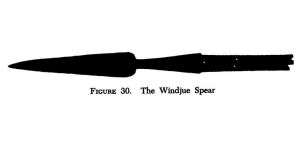 Holand photograph of the Windjue spearpoint
January 15
Cormorant Lake Axe Update
Proceeding eastward from the KRS we find some artifacts which we can now relate to what has already been found in the general area. First I'd like to do an update on the Cormorant Lake axe. See our December 2018 blog for our original coverage of this artifact.
This summer I was privileged to examine this axe in detail at the Vesterheim Museum in Decorah, Iowa. I must express my gratitude to the curator and staff for this courtesy.
The axe is forged iron and is quite heavy, weighing about 5 pounds. It is actually in better condition than the photographs show. A flaw can be seen on the lower right part of the haft (pictures 1 and 4) More flaws can be seen at the top back (pictures 5 and 6). It is very likely they occurred during use and made the axe unwieldy. There are a number of very old impact marks at the top of the axe. (picture 6).
Surprisingly, there is still a small sliver of wood attached to the iron. (Picture 5 and 6)
Should this be carbon dated or should it be preserved for the future, where testing might be done without any harm to the item whatsoever?
This is certainly a Christmas present waiting to be opened.
******
Benson, Minnesota
Axe
This could be the same one as the Milan Axe. (February 2019 blog).
Geographical location: 45.316,-95.625
******
Brandon, Minnesota
Axe 1930
Holand reports: "A Mr. Nelson (Jensen) had received it from an indian far back." Current location is unknown.
Geographical location: 45.965, -95.583
******
Vining, Minnesota
Mooring Stone
Geographical location: 46.261,-95.543
February 15
Lowry, Minnesota
Boat Parts
Reported 1920-1930. No further information.
Geographical location: 45.705,-95.521
******
Henning, Minnesota
Mooring Stone
Geographical location: 46.305, -95.520
******
Lake Latoka, Minnesota
Draw knife 1938
Mooring stone
Draw Knife
This is a woodworking tool. The pointed end is inserted into a wooden handle while the circular part is sharpened and used for carving grooves or making bowls and spoons. This knife was tested and found to be of wrought iron. This process of reducing ore in charcoal was known to be used by the Norse age metal workers.
This artifact was found in 1938 on the east shore of Lake Latoka.
Holand originally identified this item as a boat hook, thinking a pole would go through the circular end while the pointed end would be used to hook mooring stones or rings.
This tool is currently in the Runestone Museum, Alexandria, Minnesota.
Mooring stone
This mooring stone is identified as Holand #10.
Geographical location: 45.874,-95.454
March 15
Special Retirement Posting
Yes, it is true. As of Friday the thirteenth I am retired from Bell-MTS where I have worked the last 10 years. I can now devote more time and effort to my bucket list where of course Viking research is near the top. There are many more artifacts to be researched and sites to be examined.
Here is more from our artifact list:
Alexandria, Minnesota
Fishhook
Harpoon point
Small fishing spear tine
Wedge
NOTE: All these items are currently located at the Runestone Museum, Alexandria, Minnesota.
Fishhook
This large fishhook was found west of Alexandria. Hand forged from wrought iron.
Harpoon Point
This bone harpoon point is nearly identical to ones found in archaeological sites in Norway. These harpoons are very commonly used for hunting seal. Being of bone, it is possible to be carbon dated but again we run into the argument, should this artifact be damaged for testing or should it be left as is with the expectation that future types of testing will be able to be done without damage to the artifact.
Small Fishing Spear Tine
Like the large tine we documented earlier, the small tine was found in the Alexandria area. It is of wrought iron and is about one third the size of the large tine.
Wedge
This wrought iron wedge would have been used for splitting logs. The chisel like tip would be hammered into the wood and then worked loose with the assistance of the handle. Heavy use can be seen on the opposite end of this wedge from hammering with the blunt side of an axe.
There was an axe was reported by Anderson in 1994 but this could be the wedge.
Geographical location: 45.890, -95.378
******
South of Alexandria
Stone Dam
There have been reports in the general area that the early settlers found a stone dam when they first came to the area. This drew particular interest with the pioneers as the natives of the area did NOT build dams, especially of stone. The location is estimated.
Geographical location: 45.827, -95.344
April 15
Lake Darling, Minnesota
Halberd 1920
A second report states this as being found in 1923. The halberd was discovered 3 feet underground tangled in oak tree roots.
The construction, weathering and manufacture of this item is identical to that of the Frog Point halberd discovered in 1870 by Estenson. They are as similar as two peas in a pod, most likely made by the same manufacturer. The metal appears to be of a high grade steel.
The handle was analyzed and found to be of arctic spruce.
Geographical location: 45.919,-95.414
******
Lake Jessie, Minnesota
Mooring stone
This stone is classified by Holand as #11.
Geographical location: 45.863, -95.307
******
Lake Osakis
Mooring stone
Holand located one complete stone as well as one incomplete with a hole only 3" in depth.
Geographical location: Geographical location: 45.898, -95.127
******
May 15
Norway Lake, Minnesota
Runestone 1888
Bardiche 1908
Runestone
A flat stone 300 lbs 4' high x 5' wide with runic writing has been reported a number of times. It is sunken into the lake and is viewable at only certain periods of low water.
It was first reported in 1888 by Henry Moen. In 1934 Foxy Anderson viewed it and in 1936 Colonel Anderson (not related) did as well. Elmer Roen, who discovered the Milan axe viewed this stone in 1938 during a drought.
Bardiche
A Bardiche is a type of battle axe used in the middle ages. The lower portion of the axe is secured to the pole while the upper portion tapers into a sharp point. Much like a pike it is for use against armored cavalry with the handle being much shorter.
This item was found on a peninsula which was traditionally native camping grounds. (Kandiyoki county).
A man by the name of Ole Skaalerud came across it. He thought it to be some sort of farm implement and left it propped against a tree. A few years later he heard about the KRS. In 1910 he retrieved the bardiche from where he left it.
It was loaned to Holand and is now in the Runestone Museum, Alexandria.
Geographical location: 45.309, -95.107
******
Brooten, Minnesota
Sword 1930
Farmer Andrew Stene found this sword close to an old fence while plowing a field. It was analysed in 1943 and found to be of high carbon wrought iron. It was described as having a brass handle with a zig zag pattern and no crossguard. Last known at Pennock, Minnesota in 1960.
Judging from the style of the sword in the only rather vague photograph, this does not appear to be Norse. It was stated to be similar to the Ulen sword minus the crossguards. The shape does have some similarities however to the Roman Gladius (short sword). Brass handles are very synonymous with many military short swords from the early-middle nineteenth century.
Geographical location: 45.499,-95.132
June 15
Probability Factory
I recently read a book entitled Ancient American Inscriptions: Plow Marks or History? by authors: William McGlone, Phillip Leonard, James Guthrie, Rollin Gillespie and James Whittall Jr.
In it they examine many of the Pre-Columbian old world inscriptions that are extensively found throughout North America. They especially looked at Ogam inscriptions found in the southwest as well as Fell and Farley's work.
For generations there have been two viewpoints on PCE history. A staunch FOR and a staunch AGAINST. Both sides adamantly defend their side. What the authors of this book propose is that a more moderate approach be used and that both sides work together scientifically to examine these artifacts. They use these parameters in their book themselves.
The authors have put together a comprehensive set of standards that they apply analytically to arrive at a confidence rating for inscriptions. Using a scale of zero to one hundred a range is applied to four categories; Highly Unlikely, Possible, Probable or Nearly Certain.
I feel a rating system on many of the artifacts we look at in this blog would help in our investigations. From now on I intend to place a PF = Probability Factor on anything examined.
On a scale of one to five,the following factors could apply:
1. Not likely. Prove to me that it is.
2. Possible
2-3
3. Likely
3-4
4. Most likely
5. Yup! Prove to me that it isn't.
We can use for an example the Kensington Runestone which would rate at PF5 while the Ulen Sword (September 2017) would rate PF1
July 15
La Verendrye Stone
One weighty piece of evidence of pre Columbian presence is the La Verendrye Runestone. It was found approximately 900 'French' Miles westward of Montreal.Although it is not mentioned in La Verendrye's journals themselves, a complete account of this find was given by the famed explorer to Peter Kalm, a Swedish scientist which he detailed in his book:
Peter Kalm Travels Into North America 1748 Volume II
An account of his discussion with La Verendrye is on page 278.Here is a web link:
Here is a link to La Verendrye's journal:
In the report La Verendrye describes how the expedition came upon a vast number of furrowed fields that "had been plowed and sown formerly." He then reports of coming across impressions of feet in rock at a couple different locations. Next he encounters numerous pillars. Some by themselves, some stacked and some in what appeared to be attempts at walls although no fortresses were found. He then came upon a runestone a foot high and four or five inches wide. It had characters on both sides and it was attached to a larger rock. They broke this stone loose and took it back with them. This runestone eventually made its way to France where it was last reported stored in a church (cathedral?) in Rouen.
The priests in the east who examined this stone claimed this language to be Tataric. The Tatars were part of the hordes of Ghenghis Khan which fell in line with the thoughts of the time that these were ancient ruins that belonged to a Chinese invasion of Japan by Kublai Khan. It was suggested that several ships were lost in a storm (which they were) and blown across the Pacific. They then established settlements in the western parts of North America.
An important point to be aware of here is that eighteenth century Europe did not have an accurate concept of the real distance to the Pacific coast, not to mention an immense range of rocky mountains in between. That is what La Verendrye was sent out to discover. It is said they got to sight the Rockies. Additionally, when one examines the lushness of the west coast, anyone arriving from the Pacific would have little cause to go any further inland, especially when they are blocked by mountains.
Now if we take another look at La Verendrye's general descriptions and match them to the physical geography of the journey, also considering for possible exaggerations in the recount; (One can imagine the story being told by a roaring fireplace with a stiff glass or two of brandy), the furrowed fields certainly remind me of the vast rolling hills of eastern Minnesota and Wisconsin.
The footprints in stone are quite interesting. What Kalm referred to as 'Lusus Naturae' (a freak of nature). We consider them today as petrosomatoglyphs, human body parts impressed into stone. Impressions of feet are common worldwide. We find quite a quantity in Europe, especially Spain, France, England, Ireland and Scotland. There is a particular high occurrence of these footprints in Sweden. Many hundreds are known to exist. North America also has its Petrosomatoglyphs.
The large slabs of stone sure sound like glacial rocks, a large number which are deposited throughout northern Minnesota, remnants of the last ice age.
If one considers that the term 'French' mile is equivalent to a 'Nautical' or 'Italian' mile at 1.852 km per mile this calculates to 1667 km and places the runestone discovered by La Verendrye at west of the Red River in the northeast portion of South Dakota or the southeast part of North Dakota.We have already documented a high congestion of mooring stones in this area along the Whetstone river.
Using the normal mile distance of 1.66 km this distance translates out to 1448 km and places its location just east of Alexandria, Minnesota. Again a high congestion of mooring stones and other assorted items.
Sadly the cathedral at Rouen was bombed by the Allies during World War Two and it is of the general opinion that the La Verendrye Runestone is among the rubble. There is a $1000 reward offered for the recovery of this stone by the Minnesota Historical Society. Although not a wealthy man, I would be personally prepared to match this reward. Perhaps even a go-fund-me campaign would be in order.
PF 3-4
August 15
Sauk Center, Minnesota
Altar Stone
This large, crescent shaped rock was discovered in 1943 (1946?). Situated in a shallow concave area in a field it was purported to be an early Christian altar with two vertical holes holding a canopy and two horizontal holes supporting a shelf.
My friend Nik, his daughter and I trekked a long way along a trail and then through a field to reach this curiosity. It is inaccessible by car. We examined it carefully and did indeed find four holes in the stone.
Concerns were immediate.
We have two vertical holes and two horizontal holes. Each pair are made up of one drilled and one hand chiseled hole. The hand chiseled holes are 30-40% larger than those on legitimate mooring stones that I have examined.
After some consideration I realized someone interested in mooring stones had used this stone for experimenting on. A little more than a third of the rock around the vertical drilled hole had been sheared off showing the depth of this hole to be eight to nine inches. Whether this shearing was natural or blasted is undetermined.
PF 1
Geographical location: 45.853, -94.768
September 15
Mora, MN
Axe 1933
This axe was found by William Williams while harvesting corn 8 miles south of Mora. It was taken to the Concordia College museum where it was analysed and found to be of wrought iron carbuerized in the Norse technique.
Originally housed at the Concordia College, University of Minnesota, it is now in the Runestone Museum, Alexandria.
PF 3-4
Geographical location: 45.774, -93.312
******
Fish Lake, Minnesota
Whetstone
This whetstone was reported to be found by Steve Hilgren. It is described as being cracked and containing an iron core like the whetstone at Alexandria.No further information is available.
PF 2-3
Geographical location: 45.581, -93.033
October 15
Iowa
At this time I am currently in the process of researching numerous Iowa sites along the Cedar and Wapsipinicon River systems. Many of these are on fields that need to be clear of corn and must be examined during the late fall. Unfortunately due to the 2020 Covid Pandemic border restrictions I am unable to get there at this time.
I was fortunate enough to view and photograph the tophet on my previous visit as well as obtaining some documentation on the Flatjord and Shannon mooring stones. A gentleman by the name of Orville Friedrich was an avid researcher in this area circa 1970. Much of his material bears further looking at. Updates will follow as they can.
******
Ionia, Iowa
Mooring Stones
There are a number of sites with mooring stones reported in the area.
PF 2-3
Geographical location: 43.036, -92.467
******
North Washington, Iowa
Mooring Stones
Tophet
Mooring Stones
There are a number of sites with mooring stones reported in the area. A separate source reports some stones half buried in a wooded area.
PF 2-3
Tophet
What has been suggested as being a tophet, or sacrificial altar was shown to me by some very kind residents of Chickasaw County. This large oval stone is 3'x5'with the center being hand shaped in the form of a rectangle. A divot in the middle appears to lead to a drain at the top of the stone. This item certainly warrants more detailed examination.
PF 3
Geographical location: 43.117, -92.424
******
Frederika, Iowa
Mooring stone
This stone was found by Paul Shannon 5 miles west of Frederika but was subsequently moved to Charles City. It contains a bent iron ring embedded in the chiseled hole. Rust tracings are apparent along the side of the stone.
PF 3
Geographical location: 42.889, -92.402
******
Jerico, Iowa
Mooring stone
This stone was found 2 miles west of Jerico by Neal Flatjord. The hole shows to be of proper shape and dimension. It is only 2 inches deep but a portion of the stone above this hole has been sheared off. Curiously it is reported that a circular area around the hole has been plastered with ancient cement.
Perhaps this was an attempt to repair a break long ago.
PF 3-4
Geographical location: 43.183, -92.291
******
Cedar Rapids, Iowa
Small boat 1866
A small boat of Norse design was found here in 1866. No further information is available.
PF 2-3
Geographical location: 41.965,-91.802
....to be continued.