Vinland Blog
Introduction
I have always been interested in the Vikings, especially their visits to North America and the encounters with the natives (Skraelings). As if to spur this on, I was commissioned to build a model of a Viking Longship for our Local Scandinavian Cultural Center. Near the same time I obtained a copy of the book Westviking by Farley Mowat (1965) and after reading it, Peg and I decided to take a vacation to Newfoundland where we would visit L Anse Aux Meadows, the only verified Norse site in North America. What we found there and the subsequent results of my research is remarkable.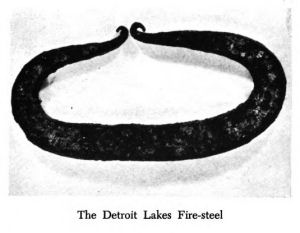 Detroit Lakes Firestriker (Photo- Holand
January 15
Pelican Lake, Minnesota
Mooring stone Holand #6
Geographical location: 46.701,-96.055
******
Ten Mile Lake, Tumuli Township, Minnesota
Mooring stone Holand #7
3" deep. Incomplete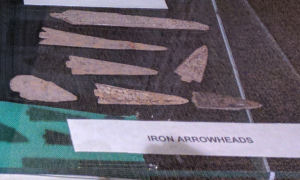 Iron Arrow Points (Runestone Museum)

Geographical location:

Geographical location: 46.127,-95.970

******

Detroit Lakes, MN
Metal arrowheads
Firestriker

These items were found by archaeologist Otto Zeck in an area not yet settled. The current location of this firestriker is unknown. It is of proper Norse style.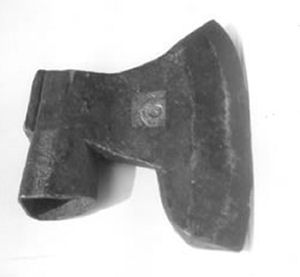 Erdahl Axe (photo: Holand)

There are iron arrowheads on display at the Runestone Museum in Alexandria although it is unknown if these are the same points. They seem to be of a flat, hammered style. They could be trade points. But whose and at what age?

Geographical location: 46.807,-95.924
February 15
Erdahl, Minnesota
Axe 1894
This axe was found by Julius Davidson. It was pulled up while uprooting tree stumps. The stumps were an average 2' in diameter. The axe was buried 1 and 1/2 feet in the ground. Davidson loaned the axe to Holand who identified it as identical to the St. Olaf Axe that is dated 1468. Note what appears to be a royal stamp
in the photograph. The current location is unknown.
Geographical location: 45.991,-95.826
******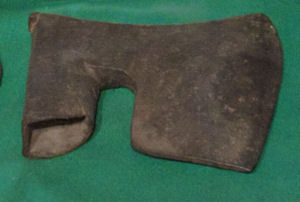 Milan Axe (Runestone Museum)
Milan, Minnesota
Axe 1930's
Found by Elmer Roen of Chokio, MN. This axe was reported by Anderson in 1994.
Geographical location: 45.112,-95.922
....to be continued.