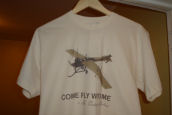 Our very first two releases,
#t030 Antoinette VII and #t037 Gotha G V
With the help of some extremely detailed digital computer work and high quality laser printing that embeds natural inks directly into the fabric, The Vintage Collection T Shirt line was born. Top quality, durable Fruit Of The Loom brand shirts make for comfortable wearing, easy washing and a unique design. Our line is constantly growing with guest artists adding their designs for a wider variety to choose from.